Exploding Collage
This is a historic exhibition. It is no longer available to visit and this page is only retained as a record of the previous event. For current and future exhibitions, visit our
What's On
page.
Exploring how early 20th century avant-garde artists expanded the notion of collage into immersive formats.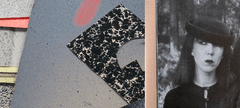 Until 12 January 2019 (historic exhibition)
Exploding Collage explores how avant-garde artists of the early twentieth century expanded the notion of collage into immersive, often ephemeral, formats. It is comprised of presentations by three contemporary artists – Nadia Hebson, Linder, and Ursula Mayer - whose work examines, celebrates or reinstates such avant-garde figures.

Nadia Hebson presents a new commission made especially for Exploding Collage, which explores the idea of clothing as an instinctive form of collage. At the heart of Hebson's installation are two paintings by the English Surrealist, Marion Adnams, whose work she navigates through a purposefully subjective, implicitly feminist lens.
Internationally renowned artist Linder – who last year won the one of the largest art prizes in the UK – will show three new works alongside elements from two interdisciplinary, experimental and deeply collaborative bodies of work inspired by Surrealist artist Ithell Colquhoun, and Modernist sculptor Barbara Hepworth.
Ursula Mayer – 2014 winner of the prestigious Jarman Award – will show her film Lunch in Fur, structured around a fictional meeting between Surrealist Meret Oppenheim, performer Josephine Baker, and photographer Dora Maar, reopening questions of the recognition and disappearance of artistic legacies.
Listen to the Hey Art, What's Good? podcast and hear what they thought of Exploding Collage. Listen here.
---
About the Exploding Collage Season

Exploding Collage is a season of exhibitions at the Hatton Gallery inspired by the idea that Kurt Schwitters' Merz Barn Wall – on permanent display in the Hatton Gallery – is a work of genre exploding collage practice, applying Schwitters' collage technique on an architectural scale.

Each exhibition in the Exploding Collage season explores how avant-garde artists of the early twentieth century expanded the notion of collage into immersive, often ephemeral, formats, with an emphasis on those whose radical practice has led to their contribution being less recognised in canonical histories of the medium. The exhibitions include, Exploding Collage, Gathering, and The Loud and the Soft Speakers.

Read Aesthetica Magazine's interview with Exploding Collage Curator, Madeleine Kennedy.
---
About the Merz Barn Wall
The Merz Barn Wall is a fragment of an unfinished artwork created by German artist Kurt Schwitters in a Lake District barn between 1947 and the artist's death in 1948. Made up of plaster, paint and found objects, the work is emblematic of Schwitters' interdisciplinary 'Merz' practice, which applied the principle of collage to all areas of life, re-contextualising discarded material to create new meanings and forms, whether in poetry, music, sculpture or space.
The Merz Barn Wall is the largest surviving fragment of the four Merzbauten (Merz Buildings) Schwitters began work on. The first Merzbau, made in his apartment in Hanover, Germany, was destroyed by allied bombing in 1943. Parts of his second Merzbau, begun in his holiday home in Hjertøyain, Norway, still survive. His third Merzbau near Oslo was destroyed by fire in 1951.
---
About the curatorial approach

The Merzbauten's history of erasure and rebuilding informs the curatorial approach of Exploding Collage, which recognises the heightened risk of radically different artistic practice becoming lost due to the difficulty of preserving and exhibiting it.
Alongside this recognition is an awareness of the dual erasure that often effects the work of pioneering female artists, many of whom have historically been overlooked or actively undermined due to their gender. For instance, many of Schwitters' female contemporaries were excluded from exhibitions, omitted from fellow artists' written accounts, not collected by museums, and had their contributions belittled by art historians.
The result is a history of twentieth century avant-garde practice which appears to be dominated by men, even though women's work was some of the most radical.
Although progress is being made in art history, exhibitions and museums are especially susceptible to perpetuating these historical 'blindspots', as it is often impossible to exhibit work by these artists due to gaps in public collections. As such, Exploding Collage seeks to circumnavigate the exhibition's traditional reliance on historical artworks and objects, instead operating through contemporary artists' work which carries within it the influence of such avant-garde artists, and testifies to their continued relevance and valued legacy, which can persist independently of the objects themselves.