Our Collections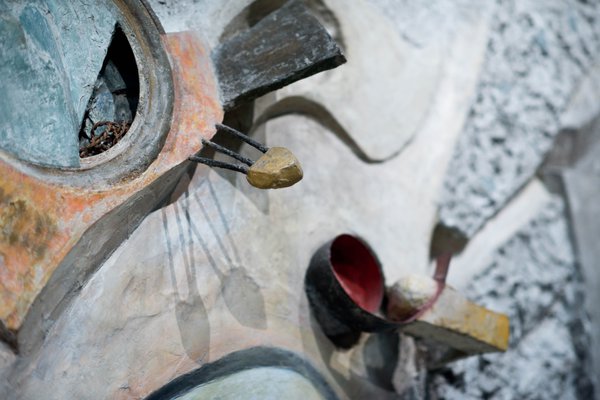 One of the most important pieces in our collection is the Kurt Schwitters' Merz Barn Wall. Constructed in a barn in the Lake District during 1947-48, the Merz Barn was Schwitters' final, and in his own estimation, 'greatest', piece of work.
The wall was transported to the gallery in 1965 and incorporated into the fabric of the building, considered as a work of international significance it is permanently displayed in the gallery.
Our paintings collection includes works from the 14th century to the present day. Key pieces include works by Francis Bacon, Prunella Clough, Richard Hamilton, Palma Giovane, Patrick Heron and William Roberts. Works on paper by artists including Thomas Bewick, Thomas Hair, Wyndham Lewis, Linder and Paula Rego are also held.
Limitations of space and the extensive programme of temporary exhibitions means that it is not possible to have the whole collection on permanent display; however pieces from the collection are often used in conjunction with internal and touring exhibitions.
The Hatton Gallery is dedicated to facilitating the research and development of its collection on all levels and welcomes those interested in the permanent collection.
For more information tel: (0191) 208 6059 or email info@hattongallery.org.uk.
Collection D​onations & Queries
Please get in touch with us (via phone, email or letter) before bringing in your items. Send us a photograph if possible.
We'll reply letting you know whether your donation offer is either - something we can accept / or if we need more information / or if we cannot accept your offer / or to arrange a time for you to bring your item in.
There are a variety of reasons that we may not be able to take your donation. We have a Collections Development Policy that we must use when making a decision.
Please note that unless there are compelling and legitimate reasons, hazardous objects and substances will not be accepted.
Please note that we cannot help with identifying artists/pictures. We can only respond to art queries that directly relate to objects in our collections. Please consult the collection website first. The best way to start your search is to enter just a couple of key words (e.g. artist surname and a main word from the title) into the Keywords box. Please note, the collections website may work best when accessed from a computer rather than by phone.