KS1, KS2, KS3, KS4 & A Level: Art & Design, Literacy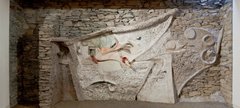 It is advisable to book well in advance to secure a visit to the Hatton.

To book your visit please click use the Booking Enquiry button above or call the gallery on 0191 277 8877.
You will need to give the following information:
Date and time of visit
Name of school, college or group
Address, post code, telephone & email details
Type of group e.g. primary, secondary, college, community group
Year group if school booking
Number of children and adults in group
Access requirements
Travelling by coach or public transport
Workshop required
You will receive a confirmation of your booking by email.
Choose one of several ways to work from this famous work of art:
Focus on sculpture by looking at Kurt Schwiiters' Merz Barn Wall, a relief sculpture created in the 1940's in a barn in the Lake District and housed at the Hatton Gallery. The group will make their own simple card sculpture turning 2D into 3D .
Groups can also choose to focus on the life of Schwitters with annotated sketches and collages. Please also see workshop listed as 'Collage Workshop'.
Visits to the Hatton are available from 10am to 11:30am and 1pm to 2:30pm. This workshop lasts for 1.5 hours and is free of charge.