International artist transforms historic gallery with new commission
Lothar Götz's new commission at Hatton Gallery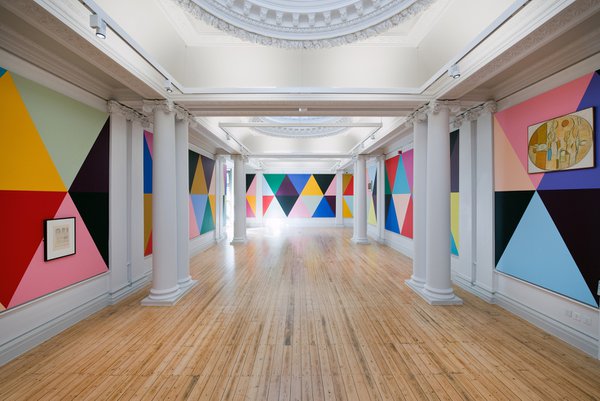 Image: Installation shot, Lothar Götz, Fairground Abstract, 2019. Photography by Colin Davison.
---
Lothar Götz: Fairground Abstract
On show until 4 January 2020
Lothar Götz is an artist best known for his large-scale, site-specific wall paintings, transforming spaces with vibrant colours and shapes. His new commission at Newcastle University's Hatton Gallery is no exception.

Götz's painting is characterised by its use of abstract geometric forms, fields and lines of intense colour, juxtaposed with one another. The new work, Fairground Abstract, responds to the Edwardian architecture and remarkable history of the Hatton Gallery and its collection, as well as its pivotal role in international innovations in exhibition design and installation art. Götz's wall painting transforms the Hatton's most historic gallery into a vibrant and immersive space where details of works from the Hatton collection are reimagined and brought to life through parallels in colour and form.
For this site specific work, Götz has carefully selected and installed five works from the Hatton collection. Most of the selection was created and acquired during the 1950s and 1960s. This period saw the growth of the Hatton's teaching collection, under Professor Lawrence Gowing's tenure from 1952 to 1958.
Victor Pasmore's Relief Construction was produced while Pasmore and Richard Hamilton's Basic Design course was underway at King's College (now Newcastle University). The course encouraged first year students to experiment with the fundamental principles of line, shape, colour and form. Artists such as John Kinnaird demonstrate that, although radical teaching methods were being implemented, traditional painting methods continued to be actively pursued at the art school. Drawing for Sculpture, 1961 by Eduardo Paolozzi was purchased from the artist in the year of its completion. Alongside Victor Pasmore, Kenneth Martin was a leading figure in the revival of Constructivist art in Britain, focusing on pure geometric abstraction.
Fairground Abstract is also inspired by two posters from the Hatton Gallery's archives. The poster King's College Charity Arts Ball January 27 1956 gives a sense of the diversity of creative events organised by staff and students over the years.
This is not the first time Götz's work has been shown in the north east – in fact you can still see some of it just five minutes' walk from the Hatton Gallery. When Haymarket Metro station was redeveloped in 2010, Götz created Canon, which features dynamic flashes of colour that run through the stations bright curved platform spaces and stretches up into the concourse above.
There are also another three large scale murals by the artist currently on display in the UK; two in other public galleries Leeds Art Gallery and Towner Art Gallery, and the final one in Pallant House Museum.
Lothar Götz: Fairground Abstract is on show until 4 January 2020.
This commission has been made possible with kind support from GOLDEN.
Updates on all Hatton Gallery's latest exhibitions and events can also be found on its social media channels.
Twitter: @HattonGallery
Facebook: Facebook/thehatton
Instagram: @hatton_newcastle