The Ignorant Art School
An interactive exhibition examining and art education, in partnership with Cooper Gallery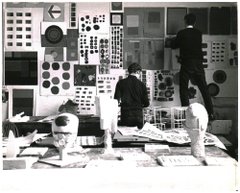 5 March 2022 - 21 May 2022
Opening Times
Monday-Saturday, 10am-5pm
Price
Free entry, suggested donation £5
The Ignorant Art School is a curriculum devised and curated by Cooper Gallery at Duncan Jordanstone College of Art in Dundee which brings together artists, designers, educators, activists, cultural workers, students and other communities to question what art education is and whom it serves.
The title of the project is inspired by French thinker Jacques Rancière's seminal book The Ignorant Schoolmaster, in which Rancière recounts the story of Joseph Jacotot, an exiled French schoolteacher who in 1818 formulated a teaching method that dissolved hierarchies in conventional pedagogical practice. Repurposing equality as a practice rather than an ideal, The Ignorant Art School examines the histories and future possibilities of art education. Directed towards a revolutionary and creative emancipation The Ignorant Art School celebrates feminist and social activist bell hooks' declaration of "education as the practice of freedom" by building communities of resistance and care and rejecting inequalities of access by deploying anti-colonial, anti-racist and feminist methodologies.
At the Hatton Gallery the Ignorant Art School is presented as a collaborative, interactive exhibition, questioning the nature of 'knowledge' and how knowledge is produced and shared. The exhibition will draw upon a series of case studies of experiments, processes and events in art education and alternative art pedagogical initiatives from the early 20th century to the present, including the Bauhaus, anti-university London, Copenhagen Free University, Edinburgh Arts Summer School, Free University New York, GUDSKUL in Jakarta, The Hedgeschoolproject in Ireland, the Hornsey Sit-in 1968, and the White Room amongst others – and expanding in particular the narrative around the Basic Course in Newcastle, developed by Victor Pasmore and Richard Hamilton.
A series of events, interventions, discussions, workshops and performances will activate the exhibition space throughout the exhibition.