The Ignorant Art School: Five Sit-ins Towards Creative Emancipation
This is a historic exhibition. It is no longer available to visit and this page is only retained as a record of the previous event. For current and future exhibitions, visit our
What's On
page.
Sit-in #2: To Be Potential. Examining the histories and futures of art education, in partnership with Cooper Gallery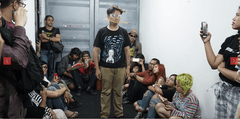 Until 21 May 2022 (historic exhibition)
The Ignorant Art School: Five Sit-ins Towards Creative Emancipation
Sit-in #2: To Be Potential
The Ignorant Art School: Five Sit-ins Towards Creative Emancipation is a contemporary art exhibition and event programme devised and curated by Cooper Gallery at Duncan of Jordanstone College of Art, University of Dundee.
Bringing together artists, designers, educators, activists, cultural workers, students and other communities, the programme questions what art education is and whom it serves now.
Repurposing equality as a practice rather than an ideal, The Ignorant Art School examines the histories and future possibilities of art education and celebrates feminist activist bell hooks' declaration of "education as the practice of freedom" by building communities of resistance and care.
Presented at Hatton Gallery is the second chapter of The Ignorant Art School, Sit-in #2: To Be Potential. Emphasising knowledge as a collective experience and artistic practice as pedagogy, the exhibition navigates historical experiments and contemporary alternative initiatives in art education including the Bauhaus, the Basic Course in Newcastle, Anti-university London, Copenhagen Free University, Edinburgh Arts Summer School, Free University New York, GUDSKUL in Jakarta, The Hedgeschoolproject in Ireland, the Hornsey Sit-in of 1968, The Rooftop Institute in Hong Kong, The White Room in Reading, and Womanifesto in Thailand, amongst many others.
A series of events, interventions, discussions, workshops and performances will activate the gallery space throughout the exhibition.
Find out more about The Ignorant Art School.
Artists and artists' collectives featured in the exhibition:
Lawrence Alloway
Anne Bean, Graham Challifour, Rita Donagh and Rod Melvin
Anne Griffin
Richard Hamilton
David Harding
Henriette Heise
Tom Hudson
Jakob Jakobsen
Lawan Jirasuradej
Glenn Loughran
Victor Pasmore
Gudskul (Jakarta)
Rooftop Institute (Hong Kong)
Womanifesto (Thailand)
Contributors and lenders:
Anne Bean
Graham Challifour
Richard Demarco
Rita Donagh
Alan Dunn
Annie Griffin
David Harding
Rod Melvin
David Page
Ross Sinclair
Arthur Watson
Bauhaus Dessau Foundation
Demarco Digital Archive at University of Dundee
Archive & Collections at the Glasgow School of Art
Glasgow Women's Library
Gudskul
Hornsey College of Art Archive Middlesex University
National Galleries of Scotland
Rooftop Institute in Hong Kong
The National Arts Education Archive at YSP
The Women's Art Library at Goldsmiths; University of London
Womanifesto in Thailand
Image: Class Meeting Vol. 1, Gudskul Short Course, 2019. Photo: Jin Panji /Gudskul. Image courtesy of Gudskul.