Regathering
This is a historic exhibition. It is no longer available to visit and this page is only retained as a record of the previous event. For current and future exhibitions, visit our
What's On
page.
An explorative immersive digital environment, inspired by the 2019 exhibition Gathering.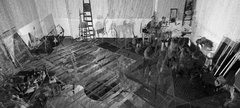 16 January 2020 (historic exhibition)
17 January 2020 (historic exhibition)
Join Josie Foster, Sarah Hollywell and Ed Wainright for an exploration and informal chat about their new work Regathering.
Gathering was an architectural intervention which took place in the Gallery in 2018-19, as part of the Hatton's Exploding Collage exhibition season. Gathering was designed by collaborators Julia Heslop & Ed Wainwright to host the work of other artists, as in Kurt Schwitters' Hannover Merz Bau, which concealed niches dedicated to his artistic heroes. Likewise, Gathering was comprised of an interconnected sequence of 'grottoes' assembled from found and given material, each of which was dedicated to an artist whose work deserves to be reconsidered in relation to collage as an expanded, immersive or time-based practice.
Every fortnight during the exhibition an invited artist or researcher dedicated a 'grotto' to the work of an avant-garde figure who they considered to have expanded collage towards new potential forms, with an emphasis on those whose radical practice has led to their contribution being less recognised in canonical histories of the medium.
During the last week of the exhibition and its de-install, architecture students Josie Foster & Sarah Hollywell worked with researcher and practitioner Ed Wainwright, using LiDar technology to make a series of 360O scans of the installation. The scans that were produced show ghostly, sometimes disjointed configurations of an exhibition that no longer exists. In keeping with the legacy of the Exploding Collage exhibition, Foster, Hollywell & Wainwright have collaged the scans back together to form a new, experimental exhibit.
During 13-17 January 2020, Foster, Hollywell & Wainwright will be in residence at Crit 1 in the Architecture Building at Newcastle University, exploring ways to re-present this ephemeral, yet more permanent record of Gathering as an exploratory immersive digital environment.