Newcastle University Master of Fine Art Degree Show 2023
This is a historic exhibition. It is no longer available to visit and this page is only retained as a record of the previous event. For current and future exhibitions, visit our
What's On
page.
The show brings together works in a wide range of disciplines.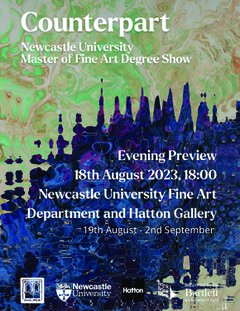 Until 2 September 2023 (historic exhibition)
Counterpart: Newcastle University Master of Fine Art Degree Show
This August, the MFA and PhD students at Newcastle University will be hosting and exhibiting in their Postgraduate Degree Show, Counterpart. Organised by the First Year MFA students, also known as Brink Collective, this show will bring together both graduating and continuing students in a unified exhibition. Counterpart will be held within Newcastle University's Fine Art building, where the university's own gallery, The Hatton Gallery, will play host to exhibiting artists, alongside other exciting and renowned venues within the University. This is an extraordinary opportunity to showcase Newcastle University's Fine Art postgraduates as they emerge from their studies as professionals in their creative fields.
Exhibition preview: 18 August 2023, 6pm.