Modern Pictures: The Hatton Collection
An exhibition displaying over fifty works from the Hatton collection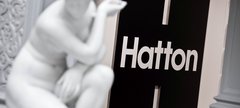 1 September 2022 - 31 January 2023
Exact dates to be confirmed. More info to follow.
This exhibition of over fifty works from the Hatton Gallery's permanent collection spotlights twentieth century art, a key strength of the collection. Highlights include important paintings by Francis Bacon, Prunella Clough, Patrick Heron and Keith Vaughan, as well as a painting by the celebrated twentieth century Australian artist Brett Whiteley - one of only three canvases by Whiteley in a UK public collection. The exhibition showcases the gallery's collection of abstract paintings from the post-war period, as well as figurative paintings and a group of rarely seen drawings.
The Hatton Gallery's permanent collection of over 3,700 objects includes paintings, prints, drawings and sculptures. Many works were collected between 1952 and 1968, when Lawrence Gowing and then Kenneth Rowntree led both the university's Department of Fine Art and the gallery; the exhibition includes acquisitions made by Gowing and Rowntree with the aim of developing a collection of 'modern pictures' for the benefit of both students and a wider public. Objects that have entered the collection more recently will also be on display, as well as works reflecting the close connections between the gallery and the Fine Art department.