Linderism
This is a historic exhibition. It is no longer available to visit and this page is only retained as a record of the previous event. For current and future exhibitions, visit our
What's On
page.
A solo exhibition of work by Linder Sterling. Currently closed due to COVID-19.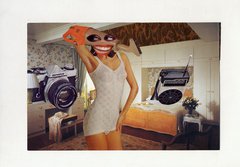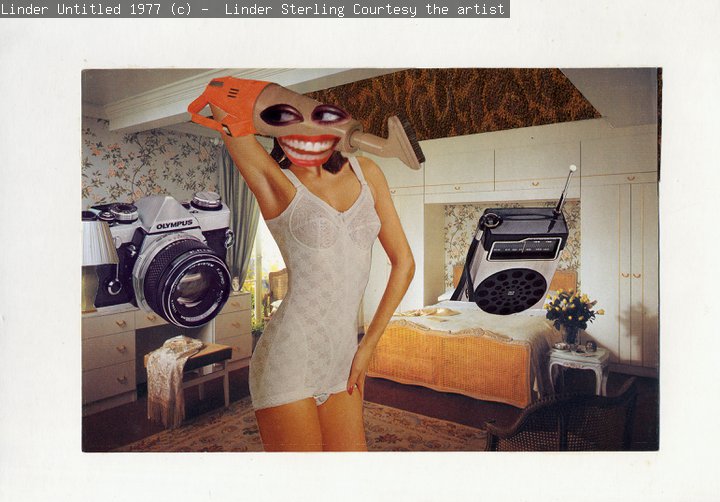 Until 23 January 2021 (historic exhibition)
'Linderism', which was previously on show at Kettle's Yard in Cambridge, is the first UK survey exhibition of Linder (b. 1954) and spans five decades of the artist's career.
Linder is well known for her radical feminist photomontage which cuts through the veneer of print culture. An important figure in the punk movement, she designed artwork for bands including Buzzcocks and Magazine, as well as for her own post-punk band Ludus, of which she was founder and lead singer.
Linder said: "It is an honour and several ambitions fulfilled to be able to show my work at Hatton Gallery, where Schwitters, Picabia and Richard Hamilton all had ground-breaking exhibitions.
The exhibition explores every area of Linder's diverse practice, from her emergence in the Manchester punk scene of the 1970s to her more recent interventionist public commissions. The title 'Linderism' claims the artist's work is its own art historical movement but also gestures to Linder's interest in style, from the artistic to the fashionable.
The exhibition includes examples of photomontage works from throughout her career, from the early work exposing the domestic consumerism of the 1970s, to later works that are more complex meditations on representation, myth and belief. In some of the later photomontages luscious roses obscure the features of nude models, conveying beauty as a form of camouflage, while other pieces, combining fashion plates and interiors advertisements, stage metamorphoses where models physically merge with pieces of furniture.
Linderism is organised by Kettle's Yard, University of Cambridge in association with Hatton Gallery.
---