Gathering - Artist Intervention: Mani Kambo
This is a historic exhibition. It is no longer available to visit and this page is only retained as a record of the previous event. For current and future exhibitions, visit our
What's On
page.
The final artist intervention of Gathering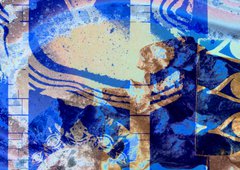 16 February 2019 (historic exhibition)
Claude Cahun once said "Under this mask, another mask; I will never finish removing all these faces"

As she explored the 'self' and 'identity', her work acts like a 'hunt' through her text, imagery and photography. She does not make complete artworks but rather all the different elements of her photographs and writings combine to form part of a bigger, unfinished, whole. As she creates her identity and imagery, each one becomes a new layer on top of the last, relating back to her diaristic publication Aveux Non Avenus, translated as Disavowels, which suggests that for all that is revealed and given, much is still hidden or has been lost.
Mani Kambo takes inspiration from these elements, from Cahun's practice of multiplying objects and her use of symbols and motifs such as hands within her work. Kambo abstracts these elements further, merging them with her own created imagery and art practice. For her Intervention, the final one of Gathering, Kambo will use form, line and shape and symbols to create new work and reflect upon the self, dream worlds and identity.