Hatton Gallery diversifies collection with painting by Nahem Shoa
The artist has generously gifted a painting to the gallery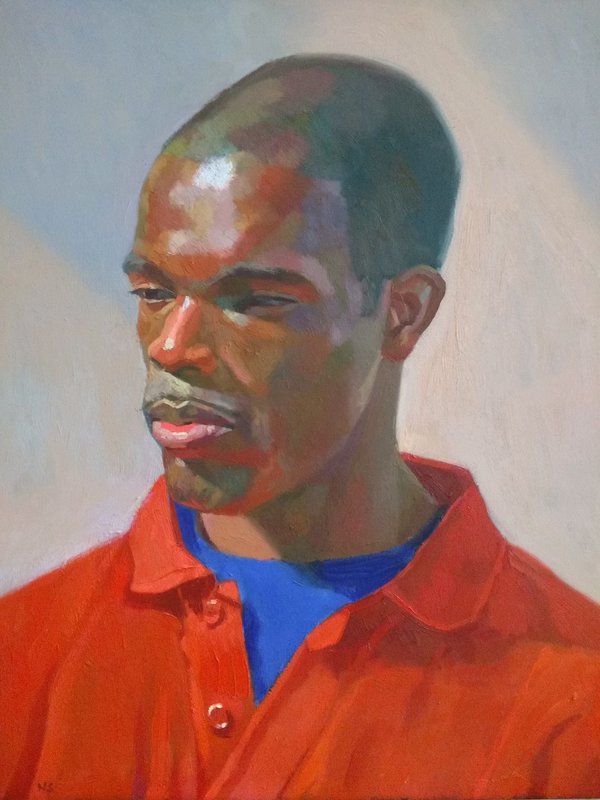 London-based artist Nahem Shoa has generously gifted one of his paintings to Newcastle University's Hatton Gallery, as part of his ongoing campaign to increase the representation of Black people in British museums and galleries.
The work, Portrait of Gbenga Ilumoko Wearing a Red Top, 1998, is a portrait of his friend and fellow artist, which was painted from life during two morning sittings.
Shoa said: "Many of my black friends who posed for me over a twenty-year period, felt that when they went to museums the only images of black people are of slaves or servants, which they all found very negative.
"I wanted to readdress this issue by getting my contemporary portraits of Black British people in collections of museums and art galleries across Britain, because I think it's important for cultural institutions today to reflect diversity in a positive and powerful way."
Julie Milne, Chief Curator of Art Galleries at Tyne & Wear Archives & Museums, said: "We are very grateful to the artist for this generous gift, which will help us to diversify our collection. It is a wonderful addition to the Hatton collection, and we are currently exploring options for exhibiting the painting in the future."
Richard Talbot, Director of the Institute for Creative Arts Practice at Newcastle University said: "Nahem Shoa is a highly accomplished artist, and this painting adds significantly to both the depth and the breadth of the Hatton's permanent collection, which has works ranging from the 14th century right up to the present day."
Nahem Shoa is best known for his series of portraits collectively called Giant Heads, which were painted up to 15 times life size. These works were painted from life, and were exhibited at Bury Art Gallery and Museum, Coventry's Herbert Art Gallery and Museum, Hartlepool City Art Gallery and Plymouth City Museum and Art Gallery.
The artist generously gifted a painting from this series to another Tyne & Wear Archives & Museums venue. Head of Desiree, 2000-2001, was acquired by the Laing Art Gallery in 2017, where it is now on display in the 100 Years of Collecting exhibition.
Speaking of his artistic practice, Shoa said: "I never paint portraits from photographs and have always worked with a live model. For me, Realism in painting is not about some fixed idea of just putting in as many photographic illustrational details onto a canvas, but about attempting to discover through the act of looking what as yet you have not seen. Only then after many layers of accrued facts placed onto the canvas does Realism become Art."
Tyne & Wear Archives & Museums, which manages Hatton Gallery on behalf of Newcastle University, has recently published its Anti-Racism statement and is part of the North East Culture Against Racism Group. This acquisition is a small step towards achieving its aim of collecting more objects and stories of relevance to minoritised ethnic groups.
This portrait is not currently on display due to commitments for temporary exhibitions, but the gallery is exploring options for displaying it in the future.
Keep up to date
Follow Hatton Gallery on social media:
Further information
About Nahem Shoa (b. 1968)
Shoa is a contemporary artist born in Notting Hill where he still lives and works.
He has an international reputation as a painter of contemporary multicultural life. Until 2007 Shoa painted from life giant heads of people from black and ethnic backgrounds. The artist then turned to other subjects that drew on 'unreal' sources, photograph, TV and film as well as memory, creating hugely multi-layered paintings bursting with incident, including floods and nuclear explosions.

Shoa graduated with a BA Fine Art Painting from Manchester Polytechnic 1991, followed by post graduate study at Slade London 1993 and an MA from the Royal Drawing School 2004.
Shoa has exhibited widely throughout the UK, and his work is in museums including the Exeter Museum and Art Gallery, Plymouth City Art Gallery and Museum, the Hartlepool City Art Gallery, the Herbert Art Gallery and Museum Coventry, where he exhibited his work alongside, Freud, Auerbach, Bomberg and Lenkiewicz, and in Bury City Art Gallery.
The artist has exhibited at a number of recent high profile group exhibitions including 2018 Crosses, Crucifixion Now/ Resurrection Now: Art of Death and Life, Southwell Cathederal, 2017 Into The Wild Abyss (3 person show with Gordon Cheung and Rui Matsunaga) Royal Albert Memorial Museum, 2017 Portrait exhibition Face to Face, The Herbert, Coventry City Art Gallery and Museum, 2016 Hard-Boiled Wonderland, (3 person show with Rui Matsunaga and Marcelle Hanselaar) at the Jessica Carlisle Gallery, London.
About Hatton Gallery 
Hatton Gallery has been at the heart of cultural life in the North East since the early 20th century. The gallery has a dynamic and illustrious history, unique in its relationship to the Fine Art department at Newcastle University. The Hatton's collection includes works from the 14th century to the present day, and the gallery's only permanent display, Kurt Schwitters' Merz Barn Wall, was brought to the gallery in 1965 and incorporated into the fabric of the building.  
In October 2017, the Hatton underwent a £3.8million redevelopment supported by National Lottery Players through the Heritage Lottery Fund. The redevelopment allowed the Hatton to upgrade exhibition spaces, restore architectural features, conserve Schwitters' Merz Barn Wall, as well as improve visitor facilities. The Hatton Gallery is managed by Tyne & Wear Archives & Museums on behalf of Newcastle University.
About Tyne & Wear Archives & Museums
Tyne & Wear Archives & Museums (TWAM) is a major regional museum, art gallery and archives service. It manages a collection of nine museums and galleries across Tyneside and the Archives for Tyne and Wear.
TWAM is supported by the four local authorities in Tyneside and Newcastle University. TWAM is also a National Portfolio Organisation funded by Arts Council England.
TWAM holds collections of international importance in archives, art, science and technology, archaeology, military and social history, fashion and natural sciences.
The organisation has been awarded funding from Arts Council to act as a Bridge organisation. The only museum service to take on a Bridge role, TWAM is one of 10 Bridge organisations across the UK using its experience and expertise to connect children and young people with art and culture.
TWAM also delivers the Museum Development programme for the North East. The programme is a comprehensive, effective and collaborative response to the needs of museums in the North East and the communities they serve. As a result, TWAM supports a total of 55 museums operating in the North East.
View TWAM's Anti-Racism Statement.
Media Contact: 
Samantha Brimer / Samantha.brimer@twmuseums.org.uk