Virtual Workshop in Your Classroom: Indian Miniature Paintings
Booking Enquiry
A virtual art session in your classroom on Indian art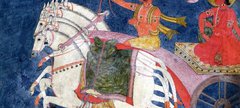 Virtual Art Session: Indian Miniature Paintings
An art session about Indian art ,looking at the Indian miniature paintings in the Hatton collection.. The workshop will be delivered on line through a digital platform ,such as Zoom ,which will be discussed upon booking.
It will consist of ;
1. Introduction by Hatton Learning team member on your classes smartboard
2. Slideshow about Indian paintings with introductory images of maps and architecture to provide a context. There will be pauses for questions and answers.
3. Demonstration of how to make an Indian Miniature artwork. Images will be sent to you for the children to use to create their artwork on booking
You will need
1. Coloured pencils
2. Pencils