An opportunity to view the exhibition and explore our learning offer. Suitable for all teachers and educators.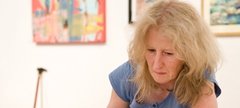 Time
3.30pm - 6pm
Refreshments from 3.30pm with a 4pm start
Price
FREE - places are limited so please book your free ticket here to guarantee your place.
Suitable for all teachers and educators.
Join us at the Hatton Gallery for a CPD event focused on our new temporary exhibition ARTIST ROOMS Roy Lichtenstein. The event will include a tour and exploration of the exhibition, creation of a piece of art work inspired by the exhibition and an opportunity to find out about the learning offer running alongside this exciting exhibition.
Lichtenstein was a pioneer of the Pop Art movement that exploded in the early 1960s. In his often monumentally-sized paintings, he makes use of a printing technique that mimics the Ben-Day dots seen in comic books and commercial newsprint. This became synonymous with the influence of popular mass culture on the look and subject matter of avant-garde art at the time. Fascinated by the arresting and emotionally charged imagery found in romance and war comics, Lichtenstein sought to recreate in paint the immediacy and impact of these simplified printed images.
---