L-INK 2019/20 application period
Apply to join our art group for 16-21 year olds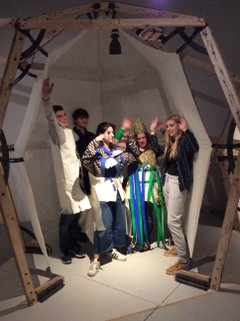 Until Saturday 19 October
Deadline for applications: Monday 14 October 2019
Download the application form. Please send completed forms to zoe.allen@twmuseums.org.uk
L-INK meet at least once per month. Please ensure you can commit to this before applying.

Please note: the project will run from 19 October 2019 to 1 September 2020. The dates above refer to the application period.

L-INK are a group of young people who work with the Hatton & Laing Art Galleries to organise events, work with artists, create artworks and lots more.
The programme is suited to 16-21 year olds that are interested in the arts, are curious about what goes on inside a gallery, or just want to meet new people. Applicants should be energetic, enthusiastic, positive, friendly and willing to commit to one afternoon a month.
L-INK is a reciprocal programme; after the project has finished each year, the galleries ask that L-INK become volunteers for the summer programme of events and activities. This is an excellent opportunity to gain real experience working within the gallery and the Learning Team can offer participants references for employment and education where appropriate. This is a great opportunity for students who are interested in the arts to learn new skills and put something extra on their CV.

---
L-INK 2019/20
This year we will use the Hatton Gallery's exhibition Artist Rooms: Roy Lichtenstein as a starting point to explore popular culture through a variety of media, including painting, printmaking, zine-making & publishing. The project will also draw upon the Hatton's existing relationship with Pop Art, through the works of Richard Hamilton and Victor Pasmore and explore collections at the Laing with a focus on what 'popular' art has comprised in an historical context. L-INK 2019-20 will explore and develop relationships with young peoples groups and galleries in other cities, meet with practising artists and curators and work collaboratively to create their own artworks and develop art skills.
The L-INK 2019-20 project will explore these questions:
What is popular culture? How has 'pop' culture changed over the last 50 years?
What is Pop Art? Can we still make Pop Art? Is Pop Art still relevant?
What is the role of the artist? What is the role of the curator?
---
L-INK Taster Day Saturday 21 September 2019 Come and see what its all about. Meet practising artists and develop your own work, meet new people and find out about L-INK 2019-20 project with no obligation. Snacks are provided.