L-INK 2018-19
L-INK are looking for you!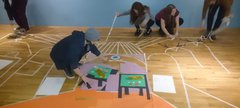 L-INK usually meet for half a day, once a month*
The deadline for L-INK 2018-19 applications is 15th October 2018.
Contact zoe.allen@twmuseums.org.uk for further information, or Download L-INK Application Form

L-INK is a popular programme; places are limited and in high demand. Because of this, joining L-INK is via application only. If you are unsuccessful in your application this time we will, with your permission, keep your contact details on record and place you on to a reserve list. We will also inform you of any other opportunities that may arise. Although this is a competitive process, it is inclusive and open to all.


*sometimes more, if something exciting is happening
L-INK are a group of young people who work with the Laing Art Gallery to organize events, work with artists, create artworks and lots more. To make things even more interesting, we have added another gallery into the mix, for L-INK to explore and investigate. So now, L-INK work with the Laing Art Gallery and the Hatton Gallery too!
In the Past...
....

L-INK have worked with artists to create works in response to paintings in the gallery, they have exhibited works in Newcastle and in London, they have worked with artists, curators and different teams in the gallery, they have visited galleries in different cities. This year L-ink have been creating their manifesto, creating art works and organising the Late Shows event.

L-INK work with the gallery in different ways: Sometimes they work on specific projects, such as the Late Shows, at other times, the Laing supports L-INK with self-led projects. This can involve workshops, discussions about their own work, meeting and finding out about the roles of Laing gallery staff.
During 2018, L-INK identified key areas which their projects should address:
• Self development through art & social skills
• Working creatively through making, talking and thinking about art in all its forms
• Engaging with communities through exhibitions, workshops and fundraising
• Making art more accessible through connecting with communities and other young people
L-INK 2018-19: Double Digits: Link is 10!
L-INK's tenth anniversary is an opportunity to reflect upon past projects as well as taking forward ideas the group have been working on as part of their own manifesto. L-INK 2018-9 will consider and celebrate artists, artworks and art-stories will explore, investigate and reinterpret artworks, meet with practising artists and curators and work collaboratively to create their own artworks, events and develop curatorial skills inspired by the both the Laing and Hatton's collections and exhibition programme.
Exhibition Inspiration: Exploding Collage
In their last project, L-INK took inspiration from the Hatton's Exploding Collage exhibition
Exploding Collage explored how avant-garde artists of the early twentieth century expanded the notion of collage into immersive, often ephemeral, formats. The exhibition comprises presentations by contemporary artists whose work examines, celebrates or reinstates such avant-garde figures, with an emphasis on those whose radical practice has led to their contribution being less well-recognised in canonical histories of the medium.
L-INK's Intervention is detailed here:
https://hattongallery.org.uk/g...