Home education resource: Green
Explore the colour green, inspired by paintings in the Hatton collection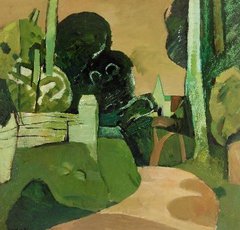 Until Thursday 31 December
If you are currently home educating, either by choice or because of school closures, including art in your plans is not only educational but good for wellbeing.
This resource helps you and your child/young adult explore the colour green, inspired by paintings in the Hatton collection.
Please note: the gallery is currently closed until further notice.
Landscape with a Green Church by Keith Vaughan
Look at all of the different shades of green that you can see in this painting. There are blue greens and very yellow greens, light greens and dark greens.
Green is made by mixing together blue and yellow. If you mix in more blue than yellow you will get a beautiful blue green. If you add white you will get lighter greens.
Farm in the Hills, Cumberland, Artist unknown
This painting has many different 'greens' in it, too. The brush marks go in different directions to show us which bits are flat, which bits are a steep hillside, which bits are trees.
Activity: You will need: Paper, pencils, paints & palette to mix colours – this could be a plate or a bit of scrap card Draw your own hilly landscape with a flat field at the front(foreground) and three or four hills behind. Have a go at mixing different shades of green:
Use green with a lot of yellow in for the front of your view Use greens with a lot of blue in for the hills at the back of your picture (distance) Use brushstrokes to show flat areas, trees, steep hills.
Share your green pictures with us on Facebook, Twitter or Instagram.
---
Download a copy of this task